Editorials
Effective Targeted Protection of Care Homes
The Chairman of Bristol Care Homes reports on COVID-19 mitigation strategies, operational management, and outcomes for a small sample of care homes in southwest UK

Summary
This article reports COVID-19 mitigation strategies, operational management, and outcomes for a small sample of four care homes in Bristol, southwest UK. The four homes are in the same group and were subjected to identical management strategies. All four homes are classified as nursing homes, meaning that professional nurses work on-site 24/7.
The Historic Account
Bristol Care Homes locked down all four of its care homes between 16 March 2020 – just before Mother's Day (22 March) – and 23 March, the day of the government's lockdown announcement. This decision led to disappointment and some opposition from residents' families planning to visit on Mother's Day, but management remained firm in its decision. As the first wave of infection spread across the UK, the major difficulty was the lack of available PPE. At the peak of the first wave, the four homes needed 500 face masks daily, but the local Council delivered only a single consignment of 150 masks.
From 1 April, we searched extensively and globally for face mask supply. Still, it wasn't until 9 April that we received a consignment of 1,000 masks imported from Germany by a UK distributor based in Birmingham. We drove to Birmingham to collect the consignment and distribute them to the homes. Further supplies were available from Germany but subject to export control, requiring orders placed with a German address for onward shipping to UK. This urgent radical action was necessary to overcome the lack of UK supply.
PPE prices rose considerably during this period. One wholesaler reported that an FFP3 face mask, which was normally priced at <£1 wholesale, was wholesaling at >£4.
We managed to limit first wave infections to two of the four homes by use of PPE and rigorous infection control procedures extending to:
housing residents in single occupancy rooms with en-suite
all staff wearing PPE at all times
staff treating infected residents wearing FFP2/FFP3 masks
residents with positive test or symptoms being barrier nursed
resident/staff cohorting
treating any infected residents last
resident and staff screening, with positives and symptomatic cases isolated
staff uniform laundering
deep cleaning all touch surfaces
skilled nurse team on-site 24/7
rapid GP access with remote access technology
respiratory equipment on site
Of 16 infections at one home, 13 (80%) made a full recovery. Sadly, up to 12 deaths occurred at the other home. However, substantial uncertainty remains as to whether COVID-19 was the cause of death in many. Given the multimorbidities in many cases and the varied physician discretion as to whether COVID was entered on the death certificate with only a positive COVID test or whether it required COVID symptoms – the true cause of death was often unclear.
Following that experience, we formulated a strategy based on twin objectives that:
residents would have a lower risk of infection than if they were elsewhere – specifically at their own home or in hospital – due to our rigorous infection control and full use of PPE, and
any residents who did become infected would have a higher chance of full recovery than if they were elsewhere due to our provision of individual rooms with dedicated en-suites, full barrier nursing led by a 24/7 nurse team, on-site oxygen availability, and access to other methods of breathing assistance
These measures led to residents remaining infection-free for several months. An additional outbreak occurred in one home in December 2020. Of 22 infections, 18 were asymptomatic and made a full recovery after 14 days of barrier nursing. The remaining four, all of whom had complex medical histories and co-morbidities, presented with symptoms.
The homes then achieved zero symptomatic resident infections by January 2021 before all residents received their first vaccination, with a small remnant of isolated asymptomatic cases.
Meanwhile, we found that elderly people in the community needing professional care became reluctant to enter a care home due to the perceived risk of infection. Lower occupancy threatened financial viability. A comparison of care home mortality against mortality in the overall >80 age cohort shows that mortality in both groups follows a similar trajectory.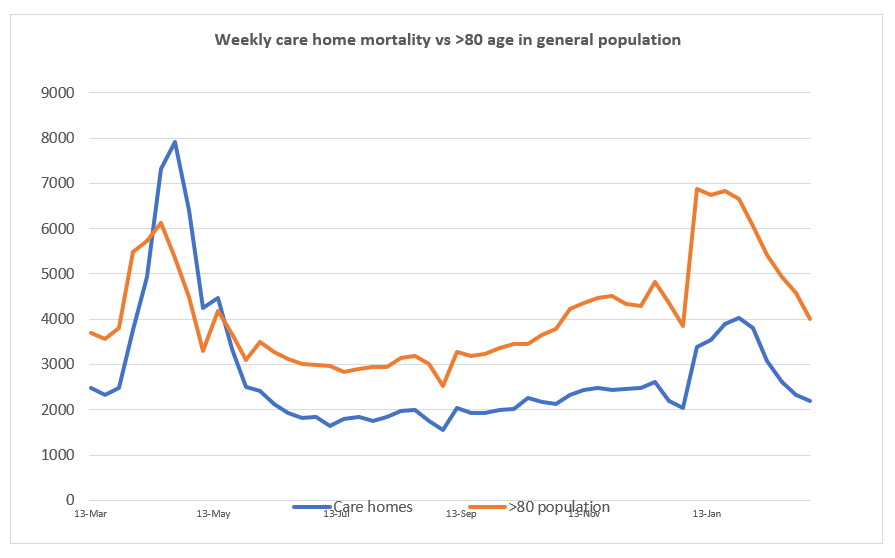 This data suggests that it is individual vulnerability, and not care home location, which explains varying mortality. Therefore, care homes implementing rigorous infection control and best recovery treatment do not pose a risk to elderly people needing professional care. Safe admission is, therefore, possible – including from the hospital.
Interim Conclusions
Our interim conclusions from our experience of managing care homes through the pandemic are:
Infection remains a non-zero risk under all mitigation strategies
Adequate PPE and rigorous infection control procedures

are both necessary to reduce the risk of infection

are effective in combination, enabling a long-term zero infection outcome

Stringent infection control should be implemented and monitored at all care homes
The lack of initial PPE from stockpile was a significant cause of the 21,000 care home deaths recorded in the UK, equivalent to 52% of national first wave mortality
Adequate stockpiles of PPE are an essential forward-looking strategy
On-site professional nursing expertise ensures rigorous infection control and high recovery rates
Care home mortality results from individual vulnerability and not care home location
Elderly people requiring professional care should not be discouraged from entering a care home, subject to the home's certified compliance with rigorous infection control
Global pandemic monitoring should inform urgent mitigation strategies
Fully specified and rigorously enforced targeted protection of care homes is a viable national strategy that is necessary, ethical, and effective. It is difficult to comprehend claims made by national clinical leadership to the contrary.

Geoff Crocker is the founder and Chairman of Bristol Care Homes, a small group of nursing care homes in Bristol, UK.
Any content is provided for your general information purposes only and to inform you about [publicly available information relating to COVID-19 and various government level strategies for addressing the pandemic provided by researchers and other third-party websites that may be of interest], but has not been tailored to your specific requirements or circumstances. It does not constitute technical, financial or legal advice or any other type of advice and should not be relied on for any purposes. You should always use your own independent judgment when using our site and its content.